Deer Stalking Scotland
Deer Stalking in Scotland - Perhaps more than anywhere else in the British Isles, it is in Scotland where Deer Stalking truly finds its home.
Stalking deer in Scotland forms a crucial part of Scottish rural culture and tradition. It also plays a key role in land management policy and helps to protect many native plants and species, whilst also providing thousands of jobs and contributing significantly to the rural economy.
The Deer Stalking Open Seasons in Scotland are as follow:
From October 2023 male deer, of all species (Red & Sika Stag, Roebuck and Fallow Buck) may be shot all year-round and have no statutory closed season.
Red & Sika Hinds may be shot between 21st October - 15th February
Roe Doe may be shot between 21st October - 31st March
Fallow Doe may be shot between 21st October - 15th February
Note, that open seasons in Scotland vary to those in England & Wales.
Whilst figures differ, Scotland is thought to be home to between 500,000 and 1000,000 deer, the majority of which are the native and iconic Red Deer. Scotland also hosts a large population of Roe Deer and Sika Deer along with an increasing number of Red/Sika hybrids.
As well as fulfiling an important environmental need, stalking deer in Scotland is not simply about the hunt but is a means of witnessing the magnificent highland and lowland scenery. For many deer hunters from around the world, this forms part of the immense appeal of hunting in Scotland.
It is important to note, that Deer Stalking Legislation in Scotland differs from that in England & Wales.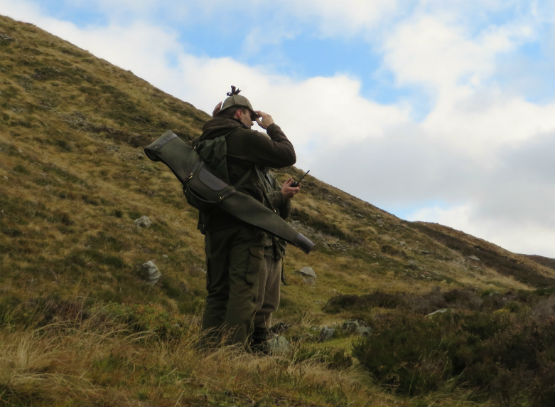 For Roe deer, bullets must weigh at least 50 grains and have a minimum muzzle velocity of 2,450 feet per second and muzzle energy of 1,000 foot pounds of energy.
For other deer species Red, Sika & Fallow, bullets must weigh at least 80 grains and calibres used should have a minimum muzzle velocity of 2,450 feet per second and muzzle energy of 1,750 foot pounds.
If you intend to use your own rifle, it is advisable before stalking to give some thought to your chosen calibre.
Deer Stalking on 'the hill' in Scotland is often carried out over open exposed ground and therefore, shots are often taken at longer ranges than those typically taken by lowland stalkers. Added to this, Red Deer represent the UK's largest wild land mammals and are sizeable quarry. During the rut in late September and early October Red Stags pumped with adrenalin, can take some 'grassing'.
As such, calibres which can deliver plenty of energy at extended ranges, whilst possessing a flat trajectory, are the order of the day. For this reason, calibres such as the .270 Winchester, .30-06 .308 and 6.5 Creedmoor are ideal.
Above: The iconic Red Stag is a true symbol of Scotland and the main quarry for recreational deer stalkers heading to Scotland
If you are considering a visit, keep in mind that deer stalking in Scotland requires a good level of fitness, as the terrain can be tough and unforgiving.
Today many estate's use all terrain vehicles (ATV's) to assist with extraction of deer from remote locations, whilst on other estates traditional highland ponies called 'Garrons' are still used to help bring the beast down from the hill. Nonetheless, you can still be in for some long treks and changeable weather conditions, so be prepared.
One thing is for sure, whatever 'beast' you intend to stalk, hunting deer in Scotland will undoubtedly provide you with some long lasting and treasured memories.
To learn more about how to stalk deer in Scotland, a great place to start, is by taking the Proficient Deer Stalking Certificate Level 1 (PDS1). A nationally recognised LANTRA approved Deer Stalking Qualification that can be obtained via the UK Shooting & Hunting Academy. Follow this link for more details: deer-stalking-course