Sika-tastic
Details

Thursday, 14 October 2021
Sika Stag in Dorset. We report back from the Capreolus Club's recent trip for Sika stag on the beautiful Isle of Purbeck.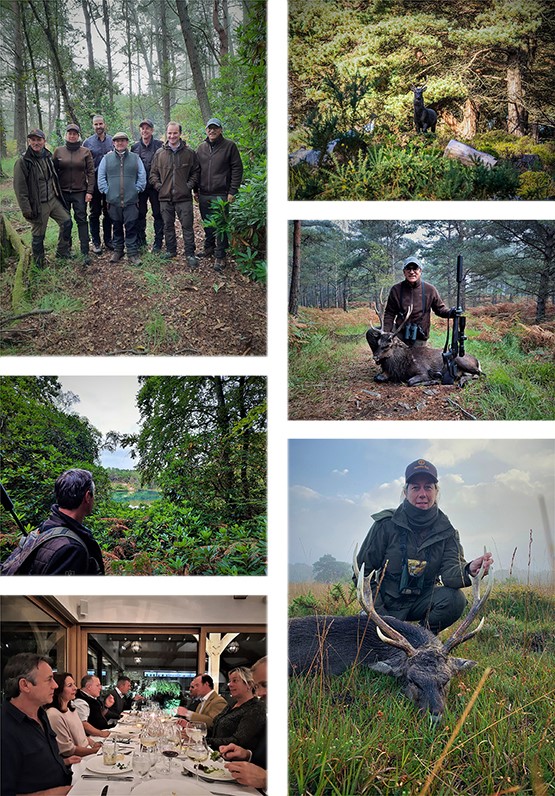 "Above: Members enjoy one of our finest trips to date, Sika Stag during the rut"
There is a real buzz about the Capreolus Club at this time of year, not least, due to last weekend's fabulous trip to the Isle of Purbeck for Sika. An event that had been designed to coincide with the frenzy and peak of the Sika rut.
Indeed, the timings of all the club trips this year, have been designed to coincide with the respective ruts. This weekend coming, the club is in the New Forest for the Fallow rut and on Monday is off to the highlands of Scotland for the Red rut.
And so far, so good. With no new fewer than eight fabulous Sika stags being taken by six rifles, the first of the club's autumn trips, certainly lived up to expectations.
Perhaps one of the club's finest trips to date. In part, due to the fabulous accommodation at the 16th Century 'Priory hotel' and the tranquillity and beauty of Dorset's Jurassic coast, but mainly due to the utter drama of the Sika rut, which set members amongst the frequent rising and falling 'wail' and whistle of this beautiful deer species.
It's a bold claim, but as chairman of the club, it is my genuine belief that this trip offered some of the finest Sika stalking in the UK, and no doubt this weekend, amidst the 'belch' of rutting Fallow, and next week amongst the 'Roar' of the highland stag, members will bring home more treasured memories.
This autumn, it is all exciting stuff, and the club autumn diary is set to culminate this year with the clubs Christmas event at the Beretta Gallery in St James on Thursday 2nd December.
The club has developed a solid reputation for high quality social events, its most recent event having been held at Mark's Club, one of London's most exclusive members clubs, where plans were made for the autumn to come.
Of course, between now and the Beretta Gallery comes the club's Fallow trip and trip to the highlands, a club stalk day on the first day of the open season, driven Boar at Chateau de Guignicourt sur Vence, France (where the club will be hosted by Prince Edouard de Merode and Tattinger no less), and countless other accompanied stalks and visits to its growing syndicate grounds, all making for a fabulous autumn diary.
If you are interested in getting involved with this thriving and friendly deer stalking club and wish to take advantage of some of the best deer stalking events in the UK, then feel free to reach out to the club chairman Peter Jones direct on: 07789 747709 or email him: This email address is being protected from spambots. You need JavaScript enabled to view it.
To find out more about Sika deer and their arrival in the UK follow this link: sika-deer-stalking-in-dorset